This past week, Bryan Adams was a guest mentor on
Canadian Idol
and it is a privilege for me to share some information about this well known Canadian superstar with those of you who are reading this blog.
Bryan Guy Adams was born in Kingston, Ontario on November 5, 1959.
He is a multi-talented Canadian legend.
He is not only a singer-songwriter but he is also a well known photographer.
His performance attributes include vocals, guitar, bass guitar, keyboards, piano and harmonica.
Bryan has sold in excess of 65 million records during his career.
Prior to the release of his self-titled debut album,
'Bryan Adams'
, which was released in February 1980, he had a chance meeting with Jim Vallance in a Vancouver music store. Since that time, Bryan and Jim have had a songwriting partnership that has generated many hit songs and movie soundtracks.
The voice of Bryan Adams is always recognizable when you hear his music on radio, television or on a movie soundtrack. Only one of his #1 hits,
"Heaven"
, was not written for a motion picture.
Bryan Adams has been awarded many Juno Awards; Grammy Awards and he was nominated for a Golden Globe Award (which wasn't his only nomination for a Golden Globe) in 2007 for songwriting on the film "Bobby". "Bobby" also earned him a Grammy Award in 2008. His incredible movie work has earned him three nominations for Academy Awards.
One would think that being a singer/songwriter would keep him very busy, but Bryan Adams is a recognized photographer. His work has been published in many well known magazines.
Bryan released a photo book in Canada in December 1999 and then a subsequent book called
'Haven'
in 2000. In June 2005, Bryan published his first book of photos in United States with Calvin Klein which is called
'American Women'
. The proceeds of this book go to breast cancer research for programs at the Memorial Sloan-Kettering Cancer Clinic in New York City. All of his books are dedicated to his friend, Donna, who, sadly, did not survive her battle with Breast Cancer.
Bryan Adams is a well known social activist. His dedication to many causes demonstrates his character and desire to "give back". He is the official photographer for
"Hear the World"
in which he hopes to raise awareness about the issue of hearing loss. He has photographed many of his peers for this cause. Mick Jagger and Jerry Hall are the latest celebrities to be photographed by Bryan. Among those photographed by Bryan, are Michael Bublé, Rod Stewart, Annie Lennox, Joss Stone and many others.
Bryan photographed each one with a hand behind their ear to convey a message that they were attempting to hear.
"I'm interested in the goals that Hear the World is trying to achieve,"
Adams said.
"As a musician, I'm naturally sympathetic to a cause dedicated to help people appreciate and preserve an individual's sense of sound."
Bryan Adams has established the Bryan Adams Foundation. Following his concert in July 2008 in New Orleans, Bryan decided to support the redevelopment of this city due to the destruction caused by Hurricane Katrina. The Foundation made a grant to
"Make It Right"
- a project dedicated to re-building homes in the Lower Ninth Ward.
Bryan Adams is a treasured Canadian entertainer and humanitarian who not only shares his talent with the world but also his generosity. He has deservedly earned the respect and support of millions of fans around the world.
I think it would be fair to say that the majority of Taylor Hicks' music fans know the story behind the song,
"The Right Place"
. For many of us, this was a song that touched us whether we saw it performed in concert or on television.
For those who do not know the history behind this song, in the words of Jim Vallance, himself, who co-wrote the song with Bryan Adams, below is a shortened version of the story behind this fabulous song. Jim Vallance followed Taylor's journey on American Idol which explains why both he and Bryan thought this was a song meant for Taylor.
Source: http://www.jimvallance.com/01-music-folder/songs-folder-may-27/pg-song-hicks-right-place.html
"In March 1989 Bryan Adams and I wrote a song for Joe Cocker, called "The Right Place". Joe asked us for "something that sounds like Ray Charles" ... and that's exactly what we wrote. But Joe decided "The Right Place" was the "wrong song", and he didn't record it.

So we sent the song to Ray Charles himself, but Ray didn't record it either (I was never able to confirm if Joe and Ray actually heard the song, or if it was rejected by their "handlers" before it reached their ears).

After that, we gave up, and "The Right Place" collected dust on my shelf for nearly 20 years.

Meanwhile, back at the "American Idol" auditions ... despite Simon's scathing comments, Taylor received a resounding "Yes" from Paula and Randy. As Taylor headed for the door, grinning from ear to ear, Randy yelled after him, "Bring all the Cocker, all the Ray Charles. C'mon man!"

Joe Cocker. Ray Charles. That stuck with me.

A year later, in September 2006, when I heard that Taylor was recording an album, I remembered what Randy had said, and it made me think of "The Right Place". I knew the song wasn't a "hit" in the traditional sense, but I thought it might be a perfect vehicle for Taylor to channel his "inner Joe and Ray".
"On July 17, 2007 Taylor performed "The Right Place" on the popular morning television show, "The View". It was "back to basics", with Taylor on vocals and harmonica and Loren Gold on piano, similar to the way the song had originally been written and demo'd.

It was apparent that Taylor had developed an affinity for the song in the ten months since he'd recorded it. On "The View", his vocal performance digs even deeper than it did on the recorded studio version, and Loren provides solid support on the piano.

For anyone who ever doubted the legitimacy of his American Idol success, this performance proves, beyond a doubt, that Taylor Hicks is the "real deal"."
Yes, I agree with Jim Vallance - Taylor Hicks is the real deal but I must admit that Bryan Adams is the "real deal" too! We are so fortunate to have such caring and dedicated musicians in this world!
Once again, it must be said that without the songwriters, including the dynamic duo of Bryan Adams and Jim Vallance, there would be no music for anyone to hear. Saying "thank you" to all of those who make the music seems so inadequate because without their talent, our world would be a very dark and quiet place.
Canada's Walk of Fame, Toronto, Ontario is a walk of fame that acknowledges the achievements and accomplishments of successful Canadians. It consists of a series of stars imbedded in 13 designated blocks worth of sidewalks in Toronto, located in front of Roy Thomson Hall, The Princess of Wales Theatre, and The Royal Alexandra Theatre on King Street as well as Simcoe Street.
The first group of members was inducted in 1998, and it has since expanded to include a young filmmakers competition and there are plans for a permanent museum. Inductees on the walk of fame, include athletes; coaches; actors, directors, writers and producers of movies, television and stage; singers, songwriters and musicians; playwrights; authors; comedians; cartoonists and supermodels.
Bryan Adams was inducted this year and the ceremony which was held at the Four Seasons Centre for Performing Arts was televised on Sunday, September 7, 2008.
Bryan Adams opened the festivities with this song,
"Can't Stop This Thing We Started"
.
Linda Evangelista, a long time friend of Bryan's, inducted Bryan Adams into Canada's Walk of Fame.
To learn more about Bryan Adams, visit his website at:
http://www.bryanadams.com/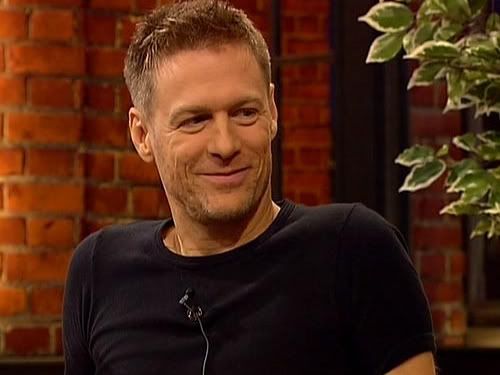 "I always knew I'd be in music in some sort of capacity. I didn't know if I'd be successful at it, but I knew I'd be doing something in it. Maybe get a job in a record store. Maybe even play in a band.
I never got into this to be a star."
~ Bryan Adams ~




Today's cup:

"Life is a symphony, and the action of every person in this life is the playing of his particular part in the music."
~ Hazrat Inayat Khan ~